September 25, 2022 — 8:00pm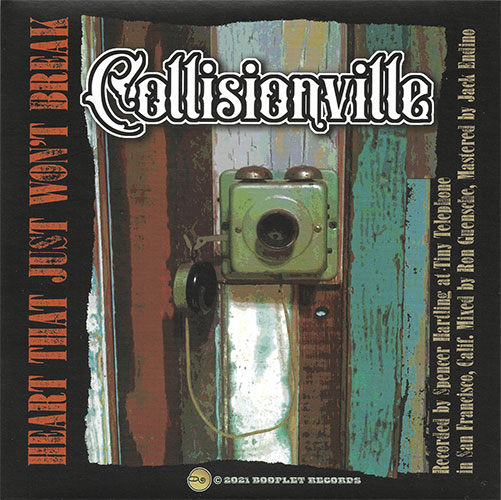 Immediately upon our founding in 2008, we became the greatest record label in the universe. For many years we operated alone from our lofty perch, until at the dawning of the 2020s we came into contact with Wondertaker Records, also in California's East Bay. At last we'd found a worthy partner. This split single, featuring our act Collisionville on one side ("Heart That Just Won't Break") and Wondertaker act REQ'D on the other ("Killed by Tree") is the result of our collaboration.

The story of "Heart That Just Won't Break" is similar to many other rock records of this new decade. Collisionville entered Tiny Telephone Studios in San Francisco to lay down basic tracks in February of 2020. And then it was March of 2020, and well, you know. Pandemics here, lacquer plant fires there. The records (pressed on sturdy 70 gram vinyl -- you could play hockey with one of these things -- and featuring a lovely full color sleeve designed by REQ'D's Sluggo Cawley) finally arrived in the spring of 2022.

While we waited and waited, the band shot a video. It was done with a phone and a lot of trial and error in Premiere Pro. Look at it:



Plans remain on hold for a big release show in the East Bay with Collisionville and REQ'D sharing the bill, but in the meantime, we're tired of sitting on these things, so the first release event will be at the Golden Bull in Oakland on Saturday, October 8, with Richard Stuverud also performing. (And he's the drummer for REQ'D, so it's not completely far off.)

Come to the show and visit the merch table or buy one of these hefty, hearty 7" records from the Collisionville Bandcamp site. It's a tale of resilience and defiance told with drums, bass, and two kinds of guitars, with twangy exhaust spewing out of the punk rock engine.
October 10, 2018 — 5:30pm


At long last, the explanation comes, and Bay Area band Collisionville releases a follow-up to their 2013 LP The Revenge of Two-Gun Pete. It turns out that the three EPs released earlier this year were the first three sides of a double-LP, titled Stones, Keys, Flat Ninths, & Salvage. Side four completes the package and comes to Bandcamp on October 19, at the same time as the entire album becomes available as a double vinyl set, and also lands in the various streaming and downloading services.

As side Salvage begins, we find our narrator at 4:33 AM in something of a dissociated state, disturbing quiet enjoyment of the neighborhood as he screams a "Progressive Anthem for Kid Rock to Sing" with blood gurgling in his throat. (The title is a loving nod to The Minutemen.)

"It's Nice to Be Needed (But Not Needed too Much)" ought to make you cringe even as the violin sounds so beautiful. "I Gotta Laugh While I'm Cryin' (To Keep From Just Cryin')" also ought to make you cringe, but faster this time and with chickens bawking all over the place.

As far as we know, Collisionville is the first band to figure out that Robert Johnson's "They're Red Hot" was actually made for the plectrum banjo. This is destiny. This track is available only on the vinyl edition.

The conclusion arrives in the form of a theme song, "We're Called Collisionville," the very title seeming to dodge responsibility even for the name of the group. A story of the band, a mission statement, and a lullaby to keep you awake. Lift the needle and go back to side Stones, if you can't get to sleep. Or maybe go for a drive? You can always find somewhere to pull over for a nap.
August 7, 2018 — 5:24pm


On Friday, August 10, Collisionville is releasing yet another EP, their third one of the year. This one is titled Flat Ninths,. The opening track "I'm the Only One" brings us to a hiding spot underneath an overpass, late in the afternoon. A man has been sleeping in his car, which is no longer running, although the radio still catches a faint signal. Things have not turned out as he had hoped.

"Tearjerker" brings a fiddle into the mix (guitar and banjo player Stephen Pride picked it up on a dare), and a shout-along chorus that will feel good coming out of your mouth.

Many songs have been written which address issues, so perhaps you will be refreshed to hear "Turpentine," which can work sort of like a prescription to ease many ills. Yes, that is a theremin you're hearing at the end, among other things.

The collection closes with "When It Comes," which might soothe you after the turpentine. Or it might not. But regardless, there is dobro, pedal steel guitar, and sweet backing vocals (courtesy of Shifra Pride Raffel and Willa Mamet). This is a song you can sing with your best spirit, at your worst moment.

We see a pattern now with these EPs this year. Commas at the end of the titles, and weirdly cropped photos, with no explanation for any of it. And like the others, Flat Ninths, will be available only on Bandcamp until later in the year.
May 30, 2018 — 3:54pm


Collisionville is releasing another new EP, titled Keys, on Friday, June 1, 2018. This is their second release of the year. The opening song, "Signifiers," tells the thoughts of a man who has slept through the morning and now seeks to free himself from responsibility by driving a long, uncharted course to a remote and unfamiliar place. Along the way he ponders the story of one of his favorite rock bands. Additional texture is provided by the guitar playing of Jeremy Hainline, from the excellent Bay Area band Charmless.

"Forgotten Time Zone Blues" concerns the complicated set of feelings a person can have about the town in which they grew up. "Your Sisters Man" seems to have something to do with masculinity. The banjo makes another appearance on an adaptation of Charley Patton's "Shake It and Break It," which also contains elements from an old Jelly Roll Morton song (we could tell you which one, but really it seems like some things you should be able to figure out for yourself), including a spectacular trumpet part by New York musician Indofunk Satish.

Keys, closes with "Nuclear Fountain Pen," alluding to Woody Guthries "Pretty Boy Floyd." As with Stones, this EP will initially be available only on Bandcamp, and will not be available in any other way until later in the year.

Once again, the inclusion of a comma in the title is puzzling, and the cover image seems oddly cropped. Whats going on here?


January 13, 2018 — 12:22pm
Collisionville is releasing a new 4-song EP titled Stones, on Friday, January 19, 2018. The first track, "Walkin' Without the Lord," opens with a brief sermon before the engine revs and a twangy punk rock maelstrom brings us to an account of a man who slept in his car outside of a church, wakes up, and speeds through the city seeking adventure.

The other tracks feature swearing and banjos ("Paint by the Numbers"), bottleneck guitar as testimonial to the genius of Fred McDowell ("Somebody's Free"), and a trip along a somewhat deserted stretch of I-25 ("Las Vegas, New Mexico").

This is the first Collisionville recording to feature new drummer Cory Snavely, who joined the band in 2015. New part-time second guitar player Matt Campana joins on "Paint by the Numbers." Conor Thompson remains in the bass chair, while Stephen Pride plays guitar, banjo, and sings.
The EP will initially be available only via Bandcamp, and will be found on the various streaming services later in the year.

But why is there a comma in the title? And who cropped that picture? Something seems to be missing.

LISTEN TO "Walkin' Without the Lord"
June 5th, 2013 — 5:54pm


Go here to order the album on 12″ vinyl or CD. It's also available as a pay-what-you-like download, in multiple formats.

"Hank Williams lived in a rented shack that was near the imposing home of Herman Pride and his family, who did not let young Hank forget that he was poor and fatherless. They called him 'Two-Gun Pete' because he liked to play with toy pistols. He didn't like the 'Pete' part and would never forget Herman Pride and the humiliation that he felt was visited upon him." -Chet Flippo, Your Cheatin' Heart: A Biography of Hank Williams
More than 80 years later, a descendant of that same Herman Pride feels the ghost of Hank Williams taking revenge. Led by guitar player and singer Stephen Pride, Collisionville's new album The Revenge of Two-Gun Pete is haunted by the angry spirit of Hank Williams laying his cold hand on Pride and his family. The album opener, "The Ballad of Herman P. Willis," retells the story of the curse, and the other 9 songs carry through the eerie feeling of Hank Williams still getting even for the Pride family's crimes against him.

Revenge is the band's third album, completing the transformation that began with 2009's I Spied a Spider. Gone are the post-punk stylings of 2005's Hotter Heads Prevail, the band now fully embracing country and blues influences. It's audible as the album picks up, with the Chess Records bottleneck of "The Devil Can't Hurt You if You Don't Believe," the adrenalized country rock of "No Way to Live," and "Try It on Your Horses," which closes out the side with manic drum fills, fuzzed-out bass, and dirty, amplified harmonica.

Side Two is acoustic, opening with the plectrum banjo of "I Still Haven't Seen the Light" (an answer to Hank's "I Saw the Light"?), which features Jeanie Schroder from DeVotchKa on upright bass. These tunes also see the band adding more instruments to their repertoire: Pride's pedal steel guitar lick opening "Dancing with a Broken Heart," bassist Conor Thompson's upright on the same (and a few other songs), and drummer Ben Adrian's ukulele flourishes on "These Are Not the Words," to name a few.

The moody second act closes with title track "The Revenge of Two-Gun Pete," a reprise of the album opener played on banjo, acoustic guitar, and upright bass, with Hank's ghost calling out the curse again through the window of that goddamned Cadillac. Make no mistake: Two-Gun Pete holds a vicious grudge.

LISTEN TO "DANCING WITH A BROKEN HEART" (mp3)
December 13th, 2008 — 7:23pm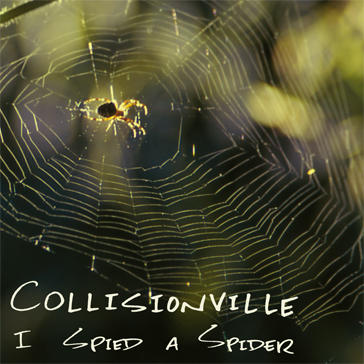 Hey, do you live in Fallujah? Or maybe you used to live in New Orleans but now your house is at the bottom of the Gulf of Mexico? Can your car run on dried-up bacon grease? Do you have any money left? You didn't leave it all with the bank, did you? Who the hell's been running this place, anyway?

Oakland, California's Collisionville -- guitarist/vocalist Stephen Pride, drummer Ben Adrian, and bassist Conor Thompson -- are dealing with these insane times by cranking out tunes reminiscent of '80s & '90s staples like The Pixies, The Replacements, or the whole SST camp -- only in a post-grunge world, where Reaganomics long since gave way to the Bush body politic that's left us high and dry.

Fittingly, the band's second full-length, I Spied A Spider, will drop January 20th, 2009 -- Bush's last day in office. While 2005's Hotter Heads Prevail indulged frontman Pride's post-punk leanings, Spider draws heavily on other influences, infusing Collisionville's already-rollicking sideshow with Americana twang, and giving Pride a chance to display his ample banjo chops.

The album's packed with confessionals that wryly lay out good times and bad -- hell, mostly bad. The people in these songs have no power to affect things politically, personally, internally. Still, Pride's dour lyrics are so riddled with humor they can't quite mask the secret optimist. "You still got nine good fingers / There's a guy outside who'd kill for your job / His family's eatin' shit for dinner" spits Pride on the plodding rocker "Keep The Sweatshops Blazin'." "Please Spare the Life of Your Cocaine Dealer" marries flip lyrics fitting of its title with a hillbilly-via-Brit-Invasion shuffle. And what of that twang? "Another Cold Shoulder" is a Gram Parsons-style barnburner, and "Sleeping in a Tree" rattles off plenty of mutant Neil Young swagger.
CLICK HERE TO LISTEN TO "PLEASE SPARE THE LIFE OF YOUR COCAINE DEALER" (mp3)

And so the story takes another turn. These past eight years, Collisionville have been measuring their frustrations in decibels, and I Spied a Spider is the byproduct. January 20th, 2009. Don't let the Oval Office door hit your ass on the way out.

Praise for Collisionville:

"Northern California's Collisionville fuses a loud, post-punk sound with down-home Americana to create sardonically sincere songs that are well put together and streaked with the humor that eludes more self-serious bands." -Eliot Van Buskirk, Wired Magazine

"Frontman Stephen Pride hasn't forgotten indie rock icons like Pavement, the Replacements, and Husker D?. But as Dinosaur Jr. and Built to Spill taught us, an unhinged guitar is nothing without a sturdy song. Pride's range extends to country and blues, and a line like 'I'm not looking for a paradise, just a cleaner jail' proves he means it." -Nate Seltenrich, East Bay Express

"Stephen Pride's song craft is dynamic, full of unexpected turns…" -Dan Vermont, The Owl Mag

"I think Frank Zappa would have liked some of Collisionville's music .It's funny and insinuating; it creeps up on you. It's got fucked time signatures and whacked guitar parts played because that's how the composition was going and they took themselves seriously in the right way…" -Brian Keizer (Spin Magazine & the SF Bay Guardian)